Have you ever heard about the Herbal Goodness company?
In this review, I will shed some insights on what is Herbal Goodness.
The company behind some of the most amazing superfood/superfruit products available on the market today.
---
Product: Herbal Goodness Graviola(Soursop) Products
Price: Graviola Leaf Extract capsules $35.95
Organic Graviola Loose Leaf Pouch $29.95
Graviola Leaf Tea Bags $9.95
Graviola Matcha $24.95
Graviola Leaf Extract Liquid 12oz $44.95
Graviola Leaf Extract Liquid 1oz $24.95
Where to Buy: Herbal Goodness
My Rating: 4.4 stars out of 5
---
I will also provide some information about their range of Graviola(Soursop) products.

An overview of Herbal Goodness 
Herbal Goodness formerly known as Herbal Papaya is a leading supplier of high-quality Graviola(Soursop) superfruit products.
Products such as herbal extracts, teas, smoothie-powders, nutraceuticals, and supplements.
The company is based in the USA and goes through an annual USDA organic certification. As well as FDA inspections, to ensure their products are manufactured at the highest standards. 
Herbal Goodness supports organic farming and engages in fair trade practices that empower local farmers around the world.
The Herbal Goodness company is 100 percent woman-owned and operated, and donates 10% of its profits to educate girls in Africa.
It seeks to inspire others to embrace a holistic lifestyle, and experience the range of benefits that superfoods like Graviola(Soursop) offers.
What is Herbal Goodness Graviola Products?
Herbal Goodness Graviola products are made from organic Graviola(Soursop), sourced in the Amazon, and the Caribbean.
There are currently 6 different Graviola products available for you to choose from, to suit your specific needs.
Products like;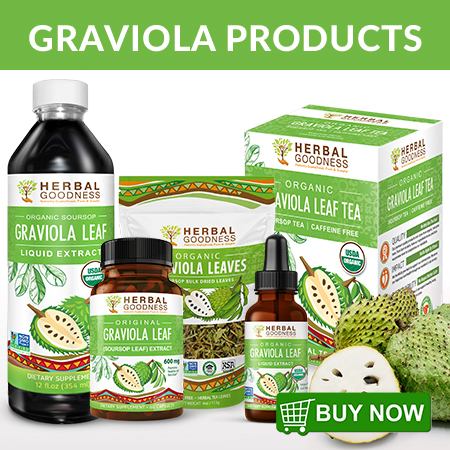 Graviola leaf extract capsules
Organic Graviola loose leaf pouch,
Graviola leaf tea bags
Graviola Matcha- organic soursop powder, combined with organic Japanese Matcha
Graviola leaf extract liquid 1 oz
Graviola leaf extract liquid 12 oz
The soursop is an incredible tropical superfruit that has a variety of health benefits. For example, assisting in cell regeneration.
As a result of its amazing healing potential. It has garnered the recognition and support of influential individuals like Dr. Oz.
Who is Herbal Goodness Graviola Products for?
Anyone can benefit from using Herbal Goodness's Graviola products.
If you're a health-conscious and seeking natural ways to boost your immune system. Then these products are definitely worth checking out.
If you're stressed and have issues with the nervous system. Issues like uncontrollable shaking of the hands. Then these products are able to help relax the nerves and restore a sense of calm and positivity.
Do you feel sapped of energy, and lack the drive to get through your day? These products are filled with antioxidants that will provide the energy requirements you need.
They are used by professional fighters, like MFA fighter Roxanne Modeferri, who uses it for muscle recovery.
Do you, or anyone you know struggle with weight issues? These products are able to help boost your metabolism, burn calories, and get you closer to your desired weight.
How does Herbal Goodness Graviola Products work?
Below is a short description of each Graviola product and how they work. Beginning with the Graviola leaf extract capsules.
Graviola leaf extract capsules
The Graviola leaf extract capsules are manufactured using a 4:1 extraction ratio. Meaning, for every one kg of Graviola extract, you get 4 kg worth of dried Graviola leaves.  
The product is available in 600/700 mg vegetable capsules for supporting healthy cell function. Proving ideal for everyone. 


Organic Graviola Loose Leaf Bulk Herb
The Graviola loose leaf pouch is great for making your own soursop herbal infusions, or decoction.
This product is a great way to receive chlorophyll into your body. Chlorophyll heals unwanted skin conditions, fights cancer, and oxygenates the blood.
Graviola leaves are rich in vitamins A, B, C, protein, calcium, and antioxidants.

Graviola Leaf Tea
Graviola(Soursop) tea caffeine-free, and well known for its calming effects, and ability to relax the nerves of the body. 
It's also a great way to strengthen the immune system and support healthy cell growth and regeneration

Graviola Matcha
This product brings you a great combination of Japanese Matcha and Graviola(Soursop) powder.
Japanese Matcha and Graviola combined are packed with antioxidants, fiber, chlorophyll, zinc, and selenium. 
Making this an excellent product for boosting metabolism, burning calories, and regenerating the cells of the body

Graviola Leaf Extract Liquid 12 oz
This is an organic, glycerin-based Graviola leaf extract. It is alcohol-free, gluten-free, and GMO-free.
This product is ideal additive or juices, teas, and smoothies, and it can even be consumed on its own. 
In small proportions though, everything in moderation as they say.
You can take it as a daily supplement, 1 tablespoon, 2-3 times a day.
Graviola Leaf Extract Liquid 1fl oz
Similar to the 12 oz, but a little more concentrated, and the 1 oz comes with a dropper. 
You can also add to juices, salads, yogurts, and smoothies. And if you choose to take on its own, then you can take 10 drops of this liquid, 2 times daily.
=>Click here to get your supply of Herbal Goodness Graviola products<=
See what others are saying
My Herbal Goodness Graviola Products review
Herbal Goodness's Graviola(Soursop) products are a great way to supplement the body.
And receive the health benefits of soursop on a daily basis.
I love soursop tea, it's definitely one of my favorite teas. I love the aroma, and I appreciate its calming effects, especially after a long day.
I think this company has done a great job of providing a range of Graviola products. I also love the fact that they are empowering girls in Africa and supporting local farmers in the process.
Herbal Goodness Graviola Products pros
The company follows strict manufacturing guidelines, which ensure you receive more nutrient-rich products.
The Graviola Matcha helps with weight loss, as its great for boosting metabolism, and burning calories.
You may experience an increase in energy and greater mental clarity.
These products are a wonderful way to calm your nerves, literally. Leaving you feeling relaxed after a stressful day, and even helps you sleep better.
With each purchase of any product from Herbal Goodness, 10% of the profits go towards educating young girls in Africa.
Herbal Goodness Graviola Products cons
The Graviola Matcha doesn't dissolve fully, so the consistency may not be as smooth as you'd like. Otherwise, it's a great product.
Conclusion
Herbal Goodness's Graviola products are excellent for your health and well-being. There are many benefits to be gained from using them.
They are a reputable company with strong ethical standards. They actively contributed to the upliftment of young girls in Africa, and also support local farmers in various countries.
Click here to get your supply of Herbal Goodness Graviola products.
Thank you for reading and I hope you enjoyed the content.  Please leave your comments, questions, or suggestions below.
Have an awesome day.